Flow Instrumentation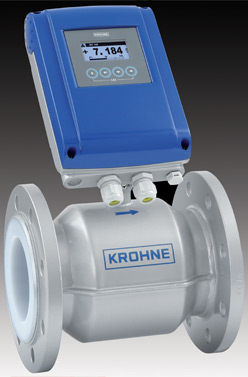 Electromagnetic Flowmeter
Electromagnetic Flow Meters use Faraday's Law of electromagnetic induction. A magnetic field is passed into a conductive liquid in a pipeline. Based on Faraday's Law, the flow of the liquid generates voltage, that gets higher as when the flow is faster. Our Electromagnetic Flow Meters are used across several industries including Water, Wastewater, Process, Food & Beverage and Pharmaceutical.
Specifications
3 X 100% diagnostics - Rugged construction
Widest selection of liners and electrode materials available 100% wet calibration, to 0.15% accuracy
Largest magmeter size selection in the industry, 1/10" to 120" Multivariable measurement - conductivity, temperature
Unique solutions:

2-wire, hybrid design
low noise electrodes
pulsating flow
field calibration
removable electrodes
partially filled pipes
virtual reference
special liners
battery powered, remote water flow monitoring - no straight runs, low velocities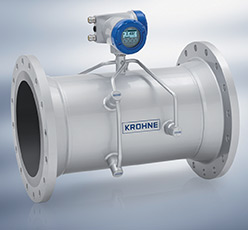 Ultrasonic Flowmeter
Whether liquid or gaseous, aggressive or corrosive, our Ultrasonic Flowmeters measure a wide range of media. All Bliss-Krohne ultrasonic flowmeters operate using the transit-time differential method. The Transit-time differential measurement is based on a simple physical fact. A sound wave traveling in the direction of flow of the product is propagated at a faster rate than one traveling against the flow (vAB > vBA). Transit times tAB and tBA are measured continuously. The difference (tBA - tAB) in time travelled by the two ultrasonic waves is directly proportional to the mean flow velocity (vm) of the product.
Specifications
100% Wet Calibration
High accuracy independent of viscosity, temperature and conductivity. Very low pressure loss, no flow obstructions
No maintenance requirements or recalibration
Wide measuring range, excellent low flow sensitivity.
Custody transfer for liquid or gas
Clamp-on UFM available in 3 size ranges for liquids
Inline liquid or gas measurement -Cryogenic & high temperature versions
Coriolis Mass Flowmeter
Bliss-Krohne Coriolis Mass Flowmeters cover all bases. Our engineers have developed a family of meters from small to large, for high pressure, cryogenic temperatures and high temperatures. These flowmeters not only monitor the device itself but also the process environment, using a Coriolis measuring system.
Specifications
Multi-variable instrument features: mass and volume flow, density and temperature
Liquid or gas measurement, impervious to entrained gas or liquids and viscosity effects
Low pressure drop
Widest selection of sizes and materials
High pressure secondary containment standard
Data redundancy. Advanced diagnostics, MODBUS, FF Temperature to 440 ̊F - 400 ̊C/752 ̊F
Custody Transfer NTEP/MC
Variable Area Flowmeter
Variable Area Flowmeters feature an upright tapered measuring tube, wider end up, in which a specially shaped float moves freely up and down. They measure the flow as the area with the flow varies.
The medium flows through the tube from bottom to top. In so doing, it raises the float until there is an annular gap between the wall of the tube and the float and equilibrium of the forces applied to the float has been achieved. Every flow value corresponds to a defined annular gap resulting from the conical form of the measuring tube and the specific position of the float.
Specifications
Simple rugged design, sanitary fittings available
Low cost indication, no power necessary
High accuracy and reliability for process control
Metal or glass tube - Liquids or gases
Available options include digital display of rate and total, analog, pulse and alarm outputs, switches
Fieldbus, HART or Profibus options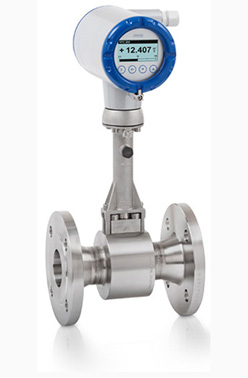 Vortex Flowmeter
Bliss-Krohne's Vortex Flowmeters measure conducting and non-conducting liquids, as well as all industrial gases. They also measure saturated steam and superheated steam, compressed air and nitrogen, liquefied gas and flue gas, demineralized water and boiler feed water, solvents and heat transfer oil.
Specifications
High turndown, loop powered
Integrated temperature and/or pressure measurement for true compensated flow
Reliable referenced sensor construction provides immunity to process vibration
Simple maintenance with no recalibration needed
Unique valve option for pressure sensor isolation
Available in flanged or wafer styles for sizes 1/2" through 12"